Welcome to the QBS Software Reviews page.
Web SEO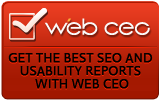 This is a really good software package of twelve 'SEO tools' that promote, maintain and analyze your website. And it's available as a free trial, so there's no reason not to give it a try if you have a website that you need to promote.
There are no restrictions in the free trail version of Web CEO. It's just the same as buying the full package.
Some of the key features of this free trial software include:
You can optimize and promote as many website's as you need to.
You get Free SEO training with every copy of Web SEO.
You benefit from free and fast technical support.
This great SEO software can help you to tweak your web pages to get free traffic from search engines, it can also monitor your rankings, submit your site and analyze your links (very important for high rankings in search engines – see our SEO article – Getting Inbound Links ).
Also, you can find and fix errors on your site like broken links and missing images and can learn almost anything about visitors to your site using a great real-time traffic analyzer. The traffic analyzer is very good for ad campaign and Return on Investment (ROI) tracking.
All in all, this software was a lucky find! Be sure to check it out for yourself by trying Web Ceo for free.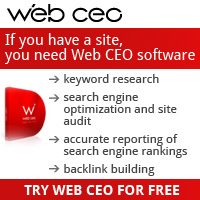 OpenOffice.org
OpenOffice.org is a multi platform and multilingual office suite and an open-source project. It is compatible with all other major office suites and is free to download, use, and distribute.
The parts of OpenOffice.org (and the Microsoft Office equivalents) are Writer (Word), Calc (Excel), Impress (PowerPoint), Base (Access) and Math (Equation Editor). It also includes Draw, which doesn't really have an equivalent in Office.
The OpenOffice.org programs are very much like their Microsoft Office counterparts. If you're familiar with Microsoft Office, you'll have no trouble using this free software. Get your free copy here.
Notepad2
Notepad2 is a light-weight, free and open source Notepad-like text editor with syntax highlighting for a few commonly used programming languages (HTML, XML, PHP, ASP, JS, VBS, CSS, JavaScript, VBScript, C/C++, C#).
This free and improved version of Notepad is based on the Scintilla source code and works on all NT-based versions of Windows.
Just put a copy of Notepad2.exe and Notepad2.ini to any directory on your computer. To uninstall Notepad2, simply delete these two files. Notepad2 does not create any registry entries on your computer.Download this improved Notepad now.
Mailwasher Free Anti Spam Software
MailWasher is a spam detection and mail preview tool that allows you to check your mail on a server and delete any spam before you download it to your local computer. It can notify you when new mail arrives and automatically mark suspicious messages, so you can preview and delete them.
The free version is limited to one POP3 email account. If you have more than one account you will need to purchase the Pro version of MailWasher. Download Mailwasher for Free.
Windows Tweak UI Power Toy
This PowerToy gives you access to system settings that are not exposed in the Windows XP default user interface, including mouse settings, Explorer settings, taskbar settings, and more.
Version 2.10 requires Windows XP Service Pack 1 or Windows Server 2003.
General Diagnostic Tools
A good all round tool for checking out parts of your PC is SiSoftware Sandra. Download the free Lite Version from Download Site for Sandra Lite.
Another useful tool is CPU-Z. which gathers information on the main devices of your system including the CPU, motherboard, memory and DirectX version.
Safer Surfing with McAfee Web Advisor
Grab a copy of this excellent software. Its free and works with all the major browsers - home.mcafee.com
Defences against Viruses, Adware, Spyware and Hackers
Anti Virus
We currently recommend Kaspersky Internet Security or Kaspersky Anti-Virus for its stunning 98% mailware detection, heuristic scanning and low resource usage.
Other anti virus offerings include:
For a quick fix, if your virus infection is not to severe, you should check out BitDefender (Free).
If your computer has System Restore (Windows ME, XP, Vista, Windows 7) you should disable this before running these cleaners to prevent copies of the infection being stored.
See a brief review of the Best Free Anti Virus Programs for your Windows PC . . .
Adware, Spyware and Hackers
Tip: click here to see how to install SpyBot and get the best results when using it.
Free Software Firewall's
CCleaner Registry Optimizer
This free program scans your PC's registry for unwanted, corrupt paths and gives you the option to make a backup before cleaning begins. Although there is not an option to restore the removed items if you change your mind, the backup is a simple .reg file - you just have to double click it to bring back your deleted registry keys. You can download this excellent program from this website right now! Or just read on.
CCleaner does a whole lot more than just clean out your registry it finds and clears all your Windows Temporary Files and removes your browser or start menu run histories, cookies and a whole lot more. It runs in all flavours of Windows, including Microsoft's latest operating systems Windows 8 and Windows 10. You can get your own copy of this excellent program from www.ccleaner.com.
CCleaner has been around for quite a while now but the latest release adds useful new functions including a drive wiping tool and a more granular selection for browser management, allowing you automatically delete tracking cookies but keep useful ones that remember passwords and log-ins for the websites you visit.
Get your Free copy of CCleaner here
Recuva recovers your lost files
Here's a free, easy to use undelete and file recover tool called Recuva. And from the same company that provides my favourite cleanup program CCleaner.
When you delete a file, the contents of that file are not usually overwritten or removed straight away. The space used by that file is marked as "available" so that it can be used the next time data is written to your hard drive.
As long as your old data is not overwritten by something new, there's a good chance you can recover the file.
This is where utilities like Recuva come in. They can scan the available space and the control information on the hard disk to identify files that might be recoverable.
If you are looking for a good undelete and file recovery tool look no further than Recuva. I've certainly added it to my computer repair kit.
Find out more from the developers website - www.piriform.com/recuva
Or, download this excellent program right now, courtesy of QBS PC Help.
And here is a great article on how how to easily recover deleted or lost files from a Windows PC - https://www.minitool.com/data-recovery/retrieve-deleted-files-on-pc.html
RegScrubXP
Another free registry cleaner is RegScrubXP. This is a very popular utility designed to delete unnecessary information from the System Registry of Windows 2000 & Windows XP operating systems. This "junk" is often left behind when programs are uninstalled, and the information is not needed anymore. Programmers mistakenly load the Registry with junk as well. The result of cleaning out the junk is a smaller, faster Registry. Because your operating system accesses the Registry a lot, keeping it clean is an essential 'housekeeping' step. To download your free copy of this program visit -www.majorgeeks.com a very useful site for updates and free software tools.